If you've never completed a tiling job before, or are still very new to laying tiles then it can be a daunting task trying to ascertain exactly what tools you do and don't need to ensure that your project is completed to a professional standard.
For traders and tiling professionals there may some discrepancies and differences of opinion with regards to which tools are needed, for which purposes, as well as which brands produce the highest quality products. However, for both professionals and amateur DIY'ers there are a number of essential tiling tools that you won't be able to do without!
We've put together this comprehensive guide in order to help you choose the right tiling tools for the job. We stock some of the best tiling tools on the market, as well as all of the accessories you could possibly need to see your renovation project through from start to finish.
If you have any questions about any of the tools we stock, or would like some expert advice regarding your tiling jobs, get in touch with our team today on 01903 775778. You can also drop in to see us at our tile & South East tile and bathroom stores.
---
How to choose the right tools
There are countless variations of tools to choose from, and two projects are very rarely the same, so it can tricky to decide which tools you'll need for the job. Before investing, consider the following factors:
Do you have a large space to tile? If so you'll probably be using a large number of tiles and it is probably worth investing in an electric tile power saw.


Are you intending to lay floor tiles, wall tiles etc? Depending on the answer you'll need to decide if you need equipment such as a step ladder, and what preparation is required.


Do you have any obstructions such as existing tiles that need to be tiled around?


What type of tiles are you using, smaller tiles or large format tiles? Larger tiles tend to be easier to lay, so it's worth considering your level of competency before committing to laying a certain tile size.
Asking yourself these questions will hopefully help you to determine whether or not you need certain tools.
---
What tiling tools do you need?
There are three stages to every tiling project:
Preparation
Tiling
Grouting
For each stage you'll need different tools, with each contributing to the final, overall effect.

Before you get started
It's easy to forget, but protective equipment should be a key consideration before beginning any tiling job.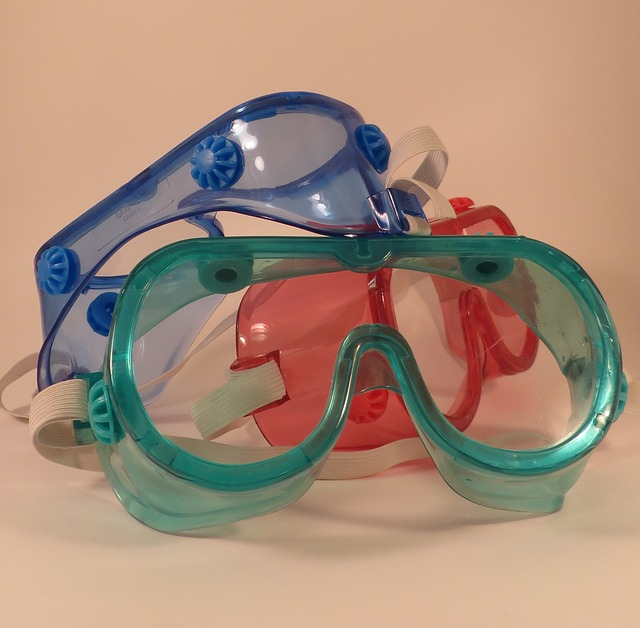 Goggles
Tiling is, unfortunately, and unavoidably a messy affair. Invest in a pair of wrap around safety googles to avoid any eye injury or irritation from dust and debris caused by tile cutting and the mixing of adhesives, grouts or levelling compounds.


Dust mask
The dust created by the cutting of tiles as well as the mixing of grouts and adhesives etc can cause irritation to the lungs. A dust mask will prevent this from happening, ensuring that you don't breathe in any nasty chemicals.
Gloves
Cement burns, cuts and irritation from adhesives are all potential tiling project hazards. Investing in specialist protective gloves will minimise these risks, as well as provide you with extra grip when handling tiles.


Knee pads
Chances are you'll be spending a lot of time on your knees, which can cause discomfort in the short term and even conditions such as arthrosis in the long term. A set of heavy duty knee pads will not only prevent this, but you'll be far more comfortable whilst working.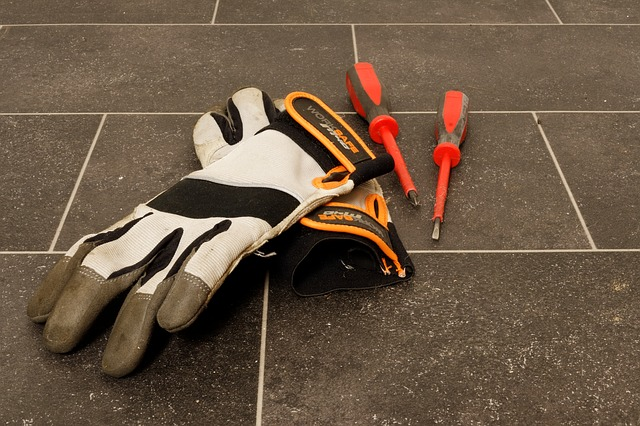 Tile preparation tools:

Pencil
While this may not seem like an important tool, a pencil actually comes in very handy when it comes to tiling. You'll need this to mark any cuts on the tiles and make any notes that you may need to make the tiling process easier.


Spirit level
Fixing tiles is not as simple as it looks, and there's nothing worse than wonky tiling or completely out of line tiles. A spirit level will ensure that everything is uniform and in line, giving a better overall appearance.


Tape measure
You'll need this to measure up the room and the tiles themselves. You'll also need this to do any cuts and check the gaps between tiles. As with all projects, 'measure twice and cut once' is the mantra you'll want to adhere to.


Step ladder
You'll only need a step ladder if you're tiling walls (and or ceilings) and need to easily and safely reach the higher parts of the wall. When using it, keep your body centred and face the ladder when climbing up or down.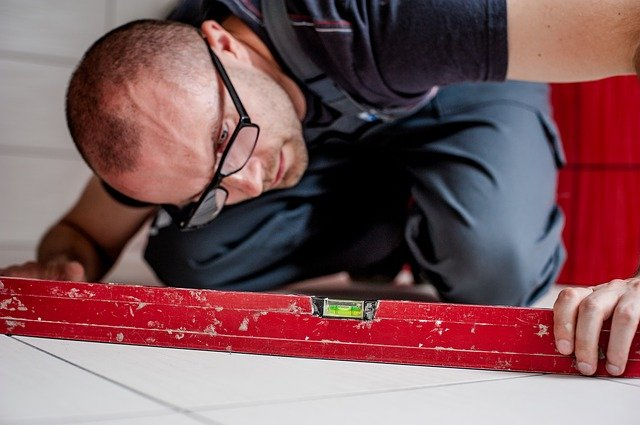 Tiling tools:
Tile scorer
Although not used by all tilers we think a tile scorer is a must have, especially if you are new to tiling. Typically tipped with tungsten carbide, as the same would suggest tile scorers are used to score a line on the glazed side of the tile. Tile cutters can be used to easily make an accurate cut.


Tile cutter
This is a very self explanatory tool that is essential when tiling – it's used to cut through tiles easily, giving you a professional finish. Ensure you choose a tile cutter that is big enough to fit the largest tile you'll need to cut.
If you have a lot of tiles that need cutting, you can opt for an electric tile power saw, which will cut a lot of tiles quickly and efficiently. These are also great for cutting curved lines for tiling around obstructions such as pipes.


Tile nippers
Also used for cutting tiles, these are specifically for smaller, irregular cuts. They allow you to be a bit more precise and accurate with your cuts. Tile nippers can also be used for cutting mosaic style tiles effectively.
Tile spacers
Another must have for tiling, tile spacers ensure you have an equal amount of space between each tile, making your tiling work look more professional and uniform.

Tile file
Tile files are used to smooth down any edges from cut tiles. This just makes the edge of the tiles look a lot less rough and gives a better overall finish.
Grouting tools:
Notched trowel
In order to ensure your tiles stick to the surface you're putting them onto, the wall or floor needs a layer of adhesive evenly spread across it. This is done using a notched trowel or spreader, with the notches helping to make the tile stick far better.
It's worth noting that notched trowels come in a range of sizes, so it depends on what's best for your tile type and size as to which one you go for. We stock a range of notched trowels including, but not limited to:
Grout float
Used for evenly spreading grout into gaps between the tiles, a grout float makes smoothing your grout joints simple and easy. Typically made from rubber with a sponge attached, they are designed to cause no damage or scratches to your tiles; simply spread the grout evenly between the tiles for a professional looking finish.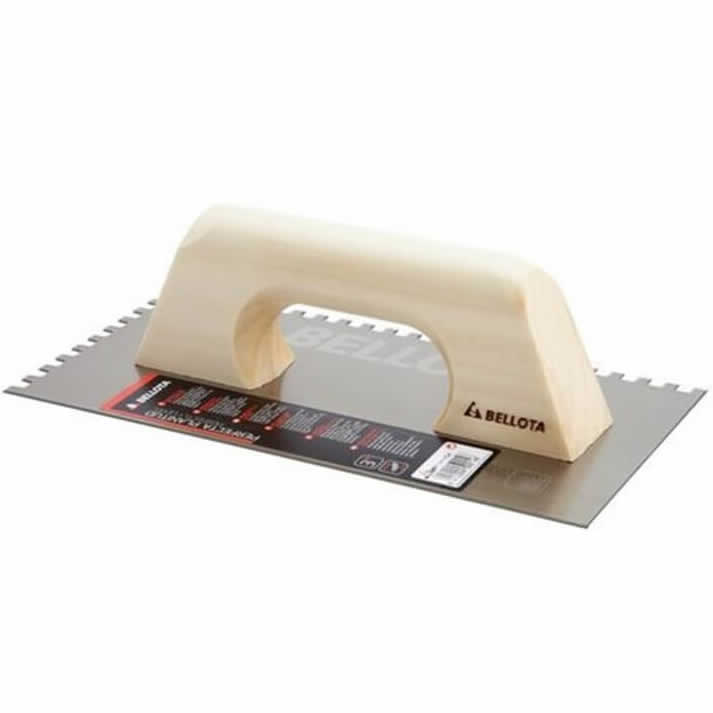 Other useful tiling tools and accessories for traders
You may have heard of a wide range of other tiling tools that haven't been listed here that you think might be good for your project. We stock a range of different tools that can help you achieve the right finish for your bathroom. These tools include:
Hole cutters / diamond drill bits
Especially important for when working with hard material like porcelain tiles, diamond drill bits allow for precise cuts to made whilst avoiding causing any damage to the tile.
Porcelain and ceramic tile cutting disks
Porcelain and ceramic tile cutting discs enable super accurate and fine straight line cuts.
Tile wedges
Tile wedges support tiles during wall tiling, helping to achieve perfectly square and level joints.
Grout removers
Grout removers vary considerably, from manual options through to reciprocating saws and oscillating tools. If you're unsure which would be most suited to your tiling project get in touch and one of our experts will be happy to advise you.
Wet wheel tile cutter
Ideal for larger projects, a wet wheel cutter makes it easier to cut tiles more quickly and with greater accuracy than manual tile cutters.
Electric mixer
If you're doing anything more than a small tiling job we'd recommend investing in an electric mixer. Not only will it save you a considerable amount of time and effort, you'll always achieve perfect mixed grouts, adhesives and levelling compounds.
How Eurotiles can help you

With 40 years in the tiling industry, we have a huge range of experience when it comes to tiling and the tools you should use to achieve your desired finish. If you have any questions about any of the tools we've suggested, or any of the other tools we stock, please give our team a call on 01903 775778.
We also have five showrooms across the south east which stock a wide range of products. Discover your nearest branch and pop in to speak to our knowledgeable team about our tiling tools.